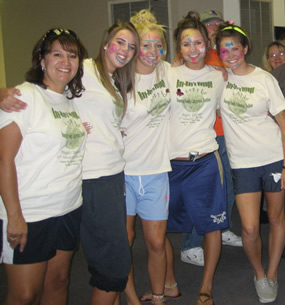 With approximately 20 volunteers currently, Angels Unaware is truly a unique organization in that it is run solely by volunteer service. Volunteers coming from all walks of life share their time and talent to help the Angels Unaware mission of healing. There have never been hidden motives, only goodness and love at the heart of all they do. It is amazing to see the outpouring of love and generosity in which our volunteers give unselfishly. (Many of whom have shown dedication and faithfulness since the inception of Angels Unaware and Camp Ray-Ray). Without them, Angels Unaware would not be able to provide anything to the children and families we hold dear to our hearts. With them, great things have been accomplished to bring forth love and hope.
Over a hundred volunteers have kept Angels Unaware going in the last 28 years. They have run support groups, organized fundraisers, managed Camp details, played with families and children, and shared love and openness with families unfamiliar with those feelings. Some of our many silent volunteers, truly Angels – Unaware, have donated food, presents, gift baskets, water; sponsored t-shirts and horseback riding adventures; offered prayers; and organized troops of individuals to gather needed items.
Volunteer Stories
Our families have little extra money for Christmas presents or even a nice holiday meal. Dorothy has gathered presents for our families for 9 years, and she has never met any of our volunteers or families! Her organized parishioners pick names of our family members from their Advent Giving Tree to buy presents and grocery certificates. Dorothy and her troop gather, sort, organize, and deliver presents to us. We then deliver them to each family.
Likewise, Jonathan organized his coworkers for 10 years to support and donate holiday gifts to Angels' families, none of whom he has ever met! Jonathan and Dorothy are silent and very helpful Christmas Angels.
Heather is a master massage therapist, teacher, and trainer. Her husband Todd is a professional ballroom dancer. What great volunteers to have! For the last 5 years, Heather has coordinated bringing volunteer massage therapists to Camp Ray-Ray so families can get a free massage while relaxing at Camp. While Todd keeps us on our toes and tries to teach us dance moves.